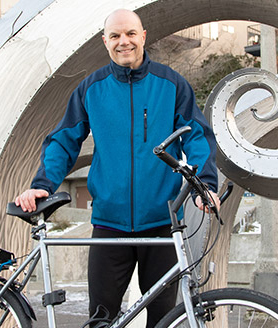 Ken Lubkowski
Ken Lubkowski is the CEO of Market Street Financial and a LPL Financial Advisor.  Ken's practice, located in the Ballard neighborhood of Seattle, has been helping individuals and businesses with their financial and retirement planning needs since 1998.
His clients include individual 401(k) and 403(b) participants, health care and education professionals, small-business owners, and pre-retirees and retirees.
Ken was raised in Buffalo, New York where his father owned a floor-covering business and managed rental properties and his mother was a homemaker. Ken worked for his father throughout his school years and graduated from SUNY–The College at Brockport, with a degree in business administration with a concentration in marketing and a minor in economics.
In addition to his professional work, Ken is involved in giving back to the local community.  He participates with charitable activities through his church, Seattle Children's hospital, and the Ballard Food Bank.  He is also very passionate about participating with Special Olympics and has found it to be an especially rewarding experience. Ken is also a member of the Ballard Rotary Club.
Ken resides in Seattle's Ballard neighborhood where he enjoys spending time with his two teenage children. He likes many outdoor activities, plays rugby, and taking drives in his classic Oldsmobile 442 convertible. He is also an avid photographer.

Financial Advocates
In partnering with Financial Advocates, Market Street Financial provides clients with additional security that their goals are being pursued in a way that is compliant with the laws, rules, and regulations that govern the financial industry.  As an Office of Supervisory Jurisdiction (OSJ), supervision of financial advisors is the foundation of Financial Advocates.  In addition they provide consulting and support to help advisors and their clients work to pursue their goals.
For more information about Financial Advocates, visit www.financialadvocates.com.

LPL Financial
LPL Financial is one of the nation's leading financial services companies and a publicly traded company under ticker symbol LPLA. The firm's mission is rooted in the belief that objective financial guidance is a fundamental need for everyone. LPL does not offer proprietary investment products or engage in investment banking activities; this means advisors affiliated with LPL are not pressured or influenced by LPL to sell its products. Thousands of financial advisors nationwide are able to rely on the firm's tools and resources to help them provide financial guidance and recommendations to help meet their clients' needs.
For more information about LPL Financial, visit www.lpl.com.
Market Street Financial, Financial Advocates and LPL Financial are separate entities.